Inpatient and Outpatient Surgery and Procedures
Your procedure with Dr. Mastrangelo will be scheduled at either St. Charles Hospital, Bend Surgery Center or Bend Surgical Associates.
All inpatient surgeries are performed at St. Charles Hospital. Outpatient surgery may be performed at either St. Charles Hospital or the Bend Surgery Center. Minor procedures are handled at Bend Surgical Associates.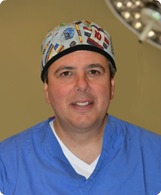 After your examination and consultation, Dr. Mastrangelo will determine the best location for your care. He prefers a conservative approach to treatment, offering non-surgical solutions, when appropriate. However, if surgery is required, physicians respect his deep expertise in offering the best and most advanced surgical care available in the region.
The team at Bend Surgical Associates will evaluate your condition, consult with your primary physician and choose the most optimal and appropriate surgical approach for your unique condition and lifestyle.
Dr. Mastrangelo's Specialities
Advanced Laparoscopy
Endoscopy
Endoscopic Retrograde Cholangiopancreatography [ERCP]
Robotic Surgery
General Surgery
Dr. Mastrangelo is among 100 surgeons nationally, and the only surgeon in the region who is fellowship trained in ERCP and advanced laparoscopic surgery and surgical endoscopy.
Learn More